What does it mean to be a bioregionalist? On March 19th, 2016, members of the Bioregional Group and other environmental, civic, and political organizations gathered at the First Unitarian Universalist Society at 608 Whitney Avenue, to consider that question through the lens of geography and mapping, which as Fred Cervin would say is one of the essential forms of "bioregional practice."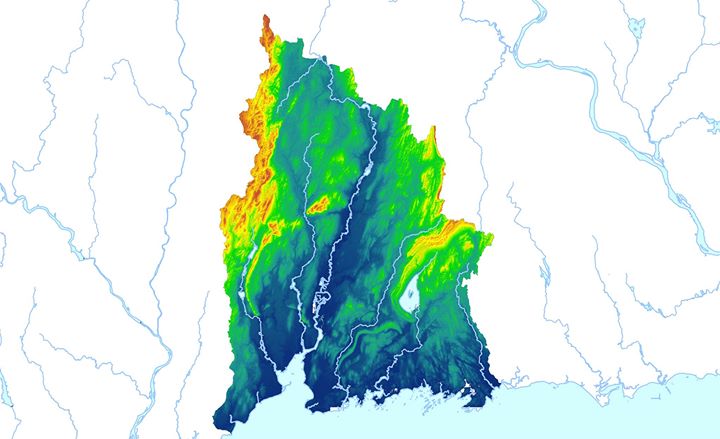 Some of the definitions of bioregionalism that emerged: "Knowing our place…desire and necessity to work towards a "sustainable" way of life…rediscovering Earth as it is – interacting with complex, intelligent systems, being in relationship…creating cycles…becoming acquainted with what's happening…building resilience."
Specifically how do these definitions relate to the New Haven / Quinnipiac Bioregion?
Ideas that bubbled to the surface captured the beauty and the vulnerabilities of our place: "Watersheds for the three rivers of our harbor…foodsheds…destruction of wetlands and rich coastal habitat…comprehensive solid waste strategy…local businesses and local food…ecology, economics, culture of place…"
Two 24×36″ black-and-white maps were laid out on the table — one of the streets and waterways of the City of New Haven, and the other of the watersheds and topography of the New Haven-Quinnipiac Bioregion.  With these maps serving as the base layers, we overlaid them with tracing paper and began to add layers of our own experience. Bike commutes were drawn in favorite colored pens. Combined Sewage Overflow sites were plotted. Favorite hiking spots, locations of community meeting places, parks, gardens, beaches.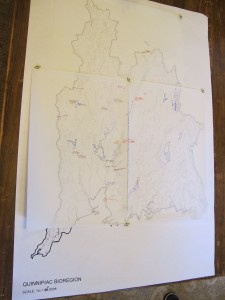 Other maps were referenced, and questions filled the room. We were left with ideas for places to visit, things we want to learn more about, and how others might add their own layers to these maps. We continued to consider how we might create maps that tell stories about our experience with our place. We look forward to seeing where this takes us, and we invite you to join in the exploration.