Recently we attended a gathering of the New England Resilience and Transition Network (or NERTNET) in Keene, New Hampshire. The Bioregional Group was a founding member of NERTNET several years ago because we believe that local resilience-building and regional cooperation go hand in hand.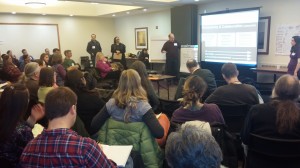 [Recent NERTNET gathering in Keene, NH.]
Would you or your organization be interested in joining the Network and contributing to its work of fostering regional resilience? Fill out this brief survey.