Bioregional Group members Lynne Bonnett and Domingo Medina have been working this summer on a citizen science project with community partners including: Yale Peabody Museum's Afterschool Evolutions Program, the Mercury Research Lab at John Jay College in New York City, and the New Haven Environmental Justice Network.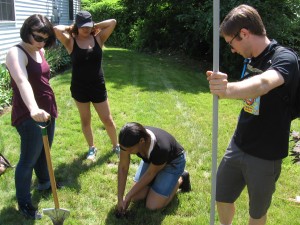 [Yale Peabody Museum's Afterschool Evolutions program.]
Here is an update from Lynne:
Our moss samples to measure airborne mercury went up on July 1 and came down July 21. Now they are undergoing analysis at the lab in New York City.

1) To determine if there is a geospatial distribution of airborne mercury around the largest point source in New Haven: Greater New Haven Water Pollution Control Authority's sewage sludge incinerator just next to East Shore Park. Samples were taken at different distances from the incinerator along transects. We expect to observe a distance effect of mercury levels associated with the source of emission.

2) To test if this type of study can be done in urban settings such as New Haven. Given the different potential sources of mercury emissions in an urban environment, we want to see if our instrument with our methodology is sensitive enough to capture airborne mercury and if it can discern a clear spatial pattern of mercury deposition.

Our citizen scientists have been hard at work: constructing poles from PVC pipe, washing sphagnum moss, weighing and putting the moss in hairnets, tying them to poles, digging the hole and putting the pole in the ground!.

New Haven Parks department kindly let us put a pole by the softball fields at East Shore Park for more public outreach. The interns made a sign – "Why are these poles here?"

Next up, trip to NYC for a tour of John Jay College and a visit to the mercury lab where the samples are being analyzed.